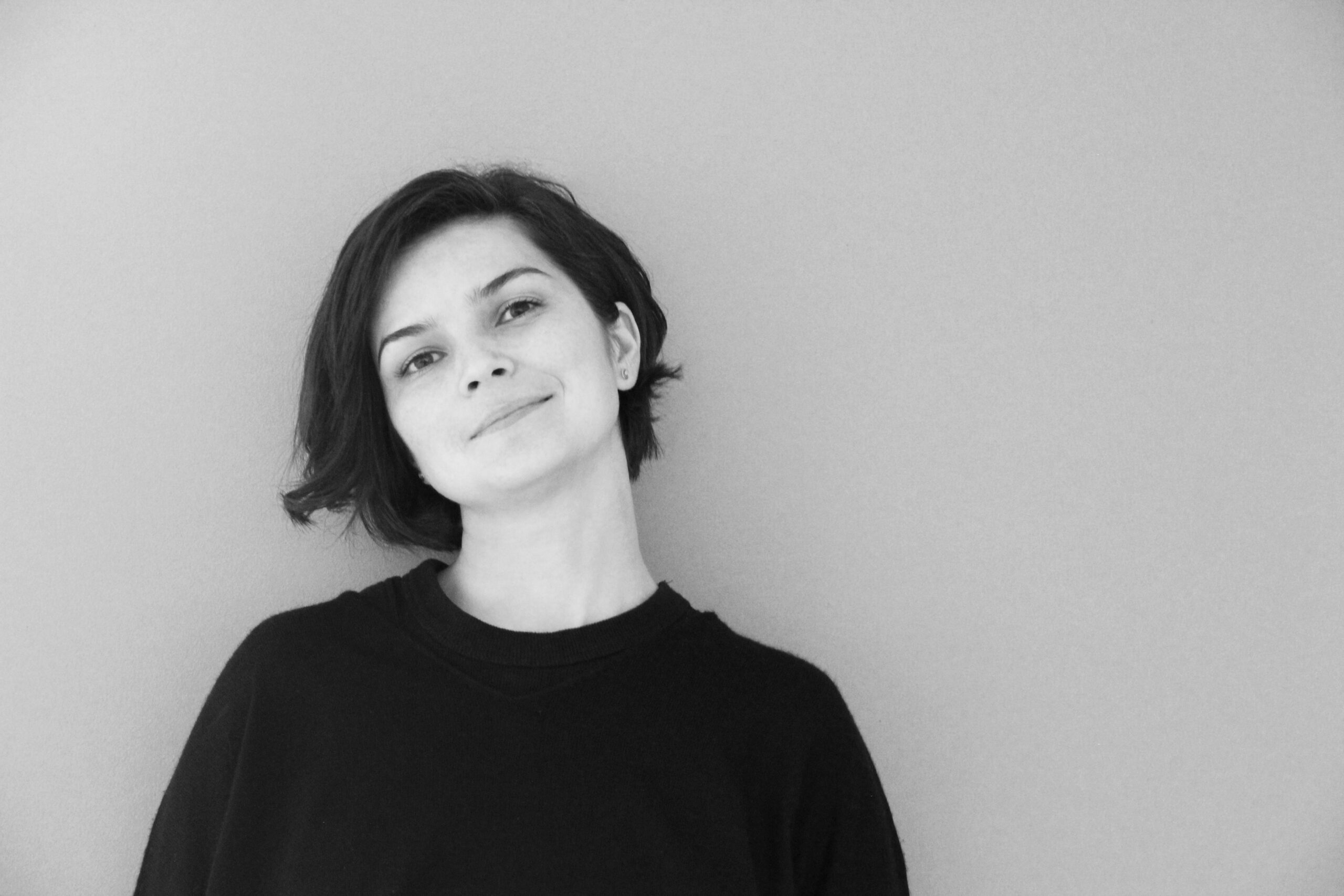 THE WORLD IS LIMITLESS: LEARNING BY DOING & FOLLOWING YOUR HEART. A CONVERSATION WITH ARMINE GHONYAN, GRAPHIC DESIGNER.
Armine Ghonyan first came to Fab Lab Armenia as a volunteer and is now a core part of the team. She looks after our website and social media pages, helps with printed resources and making videos, and is even working on a wall design for the lobby. With a background in teaching, she is also invaluable in delivering courses to challenge and inspire young people. Armine brings a calm and positive energy to the Fab Lab, and her deep love of learning is infectious.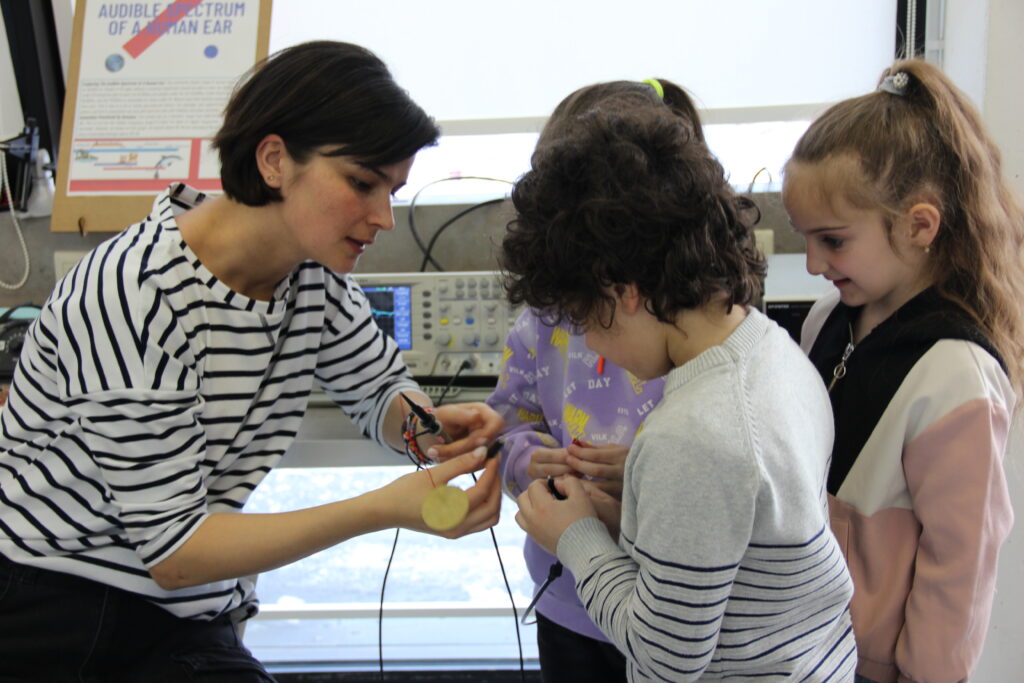 That was the beginning of an amazing journey.
Growing up in Kapan, Armine says, "I didn't expect to have higher education and follow my dreams, but life showed me that challenges are there to make me more robust, and if I really want something, I will get more than I expect."
The first time that she really took her learning into her own hands – refusing to take "no" as an answer – was when she wanted to learn languages and be able to communicate with people in other cultures, but she knew that the school and university she could afford would not be able to give her these skills. She says, "I started learning myself, and that was the beginning of an amazing journey."
After graduating from Kapan State Engineering College and Yerevan State University, she began teaching children in Artsakh, and then moved to Dilijan Central School. She works as a primary teacher but has never stopped pursuing her other passions and curiosities alongside this. She is continuously developing her capabilities in graphic design and has recently ventured into photography. "I am discovering new passions all the time," Armine says. "Life has so much for us."
"I live as long as I learn."
Mahatma Gandhi said, "Live like you were to die tomorrow. Learn like you were to live forever," Armine has certainly taken this to heart. She says, "Learning and discovering is my passion. I live as long as I learn."
"Live like you were to die tomorrow. Learn like you were to live forever,"

–Mahatma Gandhi
This is one of the reasons why Armine and Fab Lab Armenia are such a perfect match. She places a very high value on learning for its own sake, asking questions, and discovering more of what the world has to offer: "Life has so much beauty for all of us, and we have the power to discover it."
"Life has so much beauty for all of us, and we have the power to discover it."

–Armine Ghonyan
When we asked her what advice she might have for young people about making time for learning and for pursuing the things that are on their hearts, she talked about being uncompromising in finding time for those things. She said, "It's all about priorities and threats on your time…If I want something, I will definitively find time for that."
It's not surprising, then, that Armine says if she could invent one thing and build it at Fab Lab Armenia, it would be a watch that rewards you when you use your time wisely and shows how much time you lose on unnecessary things.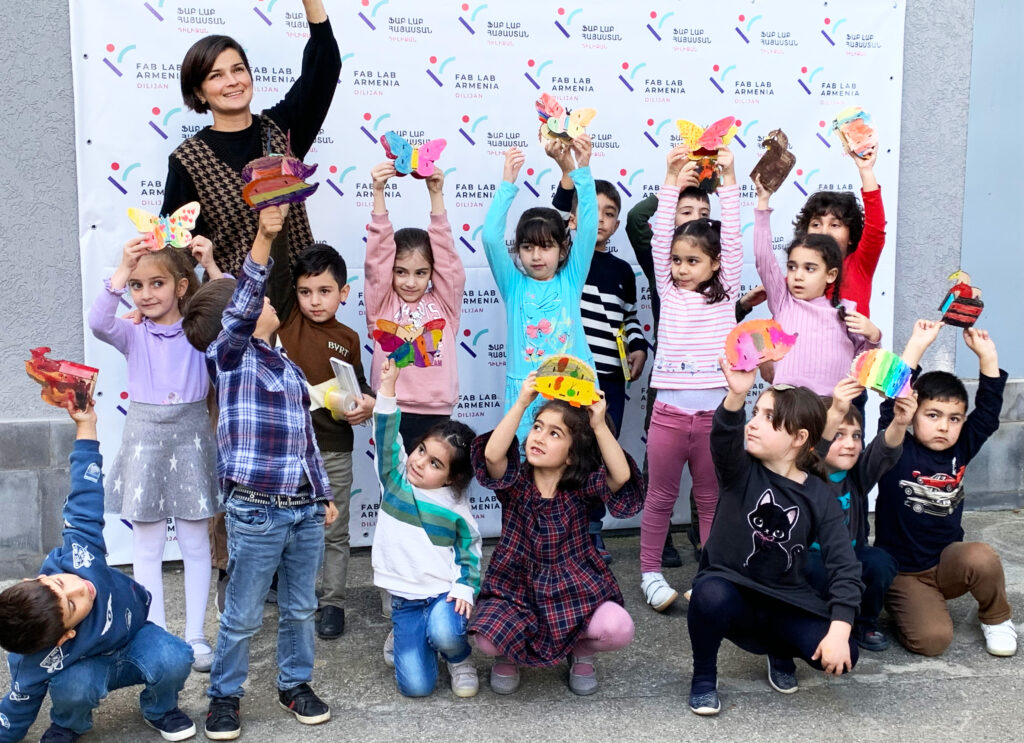 Learning by doing
This is just some of the wisdom that Armine's students benefit from as she passes on her passion for learning and the urgency of seizing every opportunity to pursue the things that are on our hearts. As she puts it: "When it comes to personal learning, I implement immediately. Life gives me projects to work on all the time."
And the hands-on approach of "learning by doing" that defines the Fab Lab is something that resonates deeply with Armine. She explains that when she was at school, 90% of her education consisted of theory, writing, and learning by heart, but she always wanted to create something using her hands. As a primary school teacher herself now, she feels she can fill that gap for some of her own students.
It's true that, as children, we enjoy making things from sand, paper, leaves, and branches. We feel completely free in our creativity and just make whatever we feel like. This is what Armine wants to instill in her students as they grow: "They need to know that they can continue creating the way they were creating when they were kids, only now their tools are different."
It is this culture of hands-on creativity and the tools to make things happen that Armine has discovered at Fab Lab. She arrived as a volunteer, updating the Lab's website and social media, but immediately felt the open invitation to try out the different machines and create something amazing. The most recent thing she made was a lamp that she gifted to her husband for Christmas.
As an alternative (or complementary) approach to traditional learning in Armenia, Armine says the Fab Lab's "learning by doing" methodology is "new, fresh, and engaging. I hope it can give excellent results soon. I wish I had had such an approach when I was at school."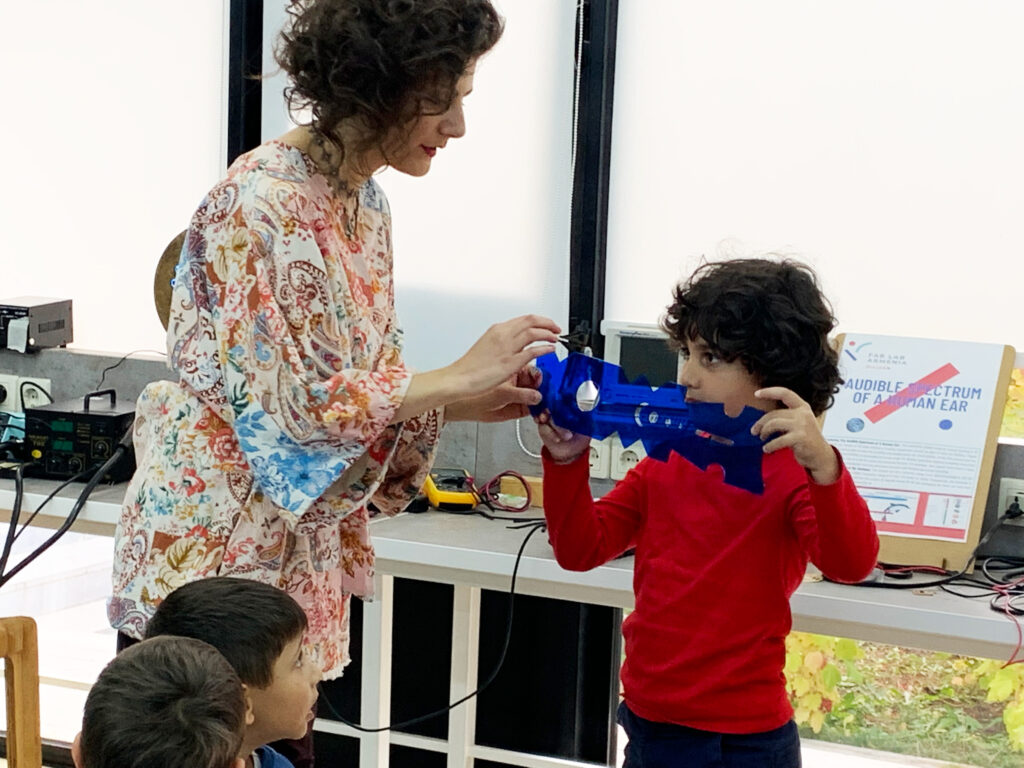 Let us be brave
She says the most important thing that she teaches her 1st graders is that it's ok to fail. In fact, failing is an important way to learn. "My failures were the most outstanding teachers in my life," she says, "And I had a lot of them." This is partly about creative freedom and opportunity and partly about courage. As Armine says, "Many things are not done because of fear. Let us be brave."
If you have never been in such an environment before and never used these tools and equipment, it may seem intimidating to walk through the doors at Fab Lab Armenia, but Armine quickly realized that the Lab is an open invitation to people of all backgrounds and skill levels to learn, experiment, and collaborate. It initially seemed "unreachable" to her – all of the electronics and robots – and she thought she should be "super smart and already understand how all that works in order to enter Fab Lab. I didn't know that Fab Lab Armenia is a place to learn all this and much more."
Her advice to others who feel the same is "just do it." She says, "If you don't try, you will never know what it is like – to give your mind to discover the world from millions of different angles." There is no prerequisite of knowledge or skill; it is purely an opportunity to learn in an environment that nurtures curiosity and discovery: "There are all the necessary tools and the atmosphere to make something interesting."
When we asked her what she enjoys most about working at Fab Lab, Armine talked about diversity, equality, and endless possibility. She says, "This is heaven for creative people." The fact that Fab Lab makes learning accessible to all is the most important and valuable thing for Armine, and it's crucial for the future of Armenia: "I want to see equal opportunities to study and students creating startups and building companies in Armenia, both girls and boys." More and more women in Armenia are taking a leading role in different fields, raising their opinions, and making their voices heard. But, as Armine says, "We still have a lot to do."
You overcome all the challenges to make it happen
When we asked her about some of the most exciting or challenging projects she has worked on, Armine told us about a playground that she was involved with in Artsvashen village, Artsakh. She explains that there were no playgrounds in the entire town, but it was difficult to make things happen as the location was very remote, and there was a lack of cooperation. The bottom line, though, was that the children were waiting for their playground, and this is what drove the team to push through the obstacles and create the best end result. Armine says, "The most challenging projects for me are always those I do for children or with children. When a child is waiting for a possibility to play, you overcome all the challenges to make it happen."
I am growing with you beautifully
We finished by asking Armine what's next for her. She reflected on the fact that her grandfather always taught her to do what she loves and to appreciate little things. She says, "Whatever I do now, I do only if it is close to my heart, and I try to remain true to myself." With that in mind, she is making the most of her time at Fab Lab to pursue her love of design, and it comes across when she talks about it: "I let the design enter my life and live with me, and me to live with it. I want it to become my lifestyle, my job, a job that will make my income and fill my life with the beauty I see each day in design."
Looking to the future, she has two big plans: "To travel the world (I have a long list of countries I plan to visit) and to become an excellent designer." She says, "I feel very calm and comfortable here, and I am growing with you beautifully."
"I want to travel the world. I have a long list of countries I plan to visit and to become an excellent designer."

Posters of Zaha Hadid, one of her favorite architects, that Armine created while working in Fab Lab Armenia and studying graphic design