Rudolf Igityan: Solutionist, Role Model, and Inventor
Embodying the unbreakable will and spirit of the Loretsi people, Rudolf Igityan is a never-give-up problem-solver with a limitless passion for innovation. Thankfully, he's also a core part of the Fab Lab Armenia team. Allow us to introduce him.
Honesty, patriotism, and consideration for others were instilled in Rudolf as a child, and these values have served him well throughout his life – not to mention his impressive academic record. After graduating from high school, he pursued a career in construction engineering, and it wasn't long before his perseverance paid off. It was during this time that he developed the problem-solving, reasoning, patience, and critical thinking that have since become the core of his very being.
But Rudolf, the lifelong learner, could not sit idly by after this early success. Deciding to take a break from construction to acquire some new skills, Rudolf found himself in the world of design and web programming – and that's when his path crossed with Fab Lab Armenia.
Crossing Paths: Fab Lab Armenia Meets the "Master of Multitasking."
Rudolf joined Fab Lab Armenia as a volunteer, eager to share his potential in exchange for experience, connections, and the development of new skills. It was the Fab Lab that first introduced him to the world of innovation, and he was thrust into an entirely new reality from the get-go:
"I'm here at Fab Lab Armenia, I am fully present, try to be in the moment, and always do great work."

–Rudolf Igityan
Rudolf devotes himself to learning, innovating, inventing and that is his drive to success․
"The Fab Lab Armenia brand was created based on our collective beliefs, our vision, our mission, and the values we stand for. We love our work and realize that education, lifetime learning, learning by doing, and digital technologies are among the most critical factors in our creative and professional lives. The country's development and our future depend on this."

–Rudolf Igityan
He places an equally high importance on hands-on experience as to university education, which keeps him motivated and on track in the Fab Lab. Traditional university training, according to Rudolf, is not enough to realize its full potential because it does not generate a tangible outcome of your own thinking. Knowledge can be quickly forgotten when not employed in practice. Fab Lab takes a different approach. Interim CEO of Fab Lab Armenia, Jacqueline Karaaslanian, says it best: "Learn to learn and do."
Rudolf believes that it is easier to stay motivated when you can see the fruits of your labor – and constantly make it better! The machines and tools accessible at the Fab Lab make this entirely realistic, helping you bring an idea or project to life through fast iteration.
"I like that it is one step from project to reality."

–Rudolf Igityan
And it's not only the physical tools, machines and practical resources that fascinate Rudolf about the Fab Lab. It's also the community and the culture of the place. There are many factors that contribute to a healthy and inspirational workplace; Rudolf emphasizes the care and warmth in the team, which is expressed in parallel translation at all meetings, and the freedom to make mistakes, to learn, on the way to finding a solution.
A Passion is Born: The Principle of Problem-Solving
The best teachers teach with humility, understanding that they too are on a lifelong quest for knowledge. Rudolf had a teacher who changed his life and inspired him to become a person who would never fail in solving problems.
"Mr. Darbinyan demanded that the homework be written in detail. That is so that anyone unfamiliar with mathematics can understand the logic behind solving the problem. The theorem is this: according to this law, we get this intermediate solution. This principle of problem-solving has had a profound effect on my entire life."

–Rudolf Igityan
This is the point in Rudolf's story when he learned to treat problems not as "problems" but as challenges, and he intends to pass this on as a teacher and a mentor to others. He approaches the process of solving a problem as a three-step challenge:
The first step is to assess the situation and look at it from the side, which is to evaluate the problem objectively. Secondly, you need to determine your possibilities. Then, when the intermediate issue is resolved, you need to gain confidence, optimism, and faith. The most crucial point is to treat difficulties and obstacles with a calm curiosity, giving yourself the right to make mistakes.
"Freedom is worth nothing unless it includes the freedom to make mistakes."

–Mahatma Gandhi
A person's fear of failure can hold them back from overcoming challenges and problems. But by overcoming the challenges, we are already innovating.
Nothing excites Rudolf more than the prospect of achieving his goals and seeing the results of his hard work. And this is all the more exciting and rewarding when he has had to overcome obstacles, analyze and learn from mistakes, and work hard to find a solution. His philosophy is that if you love what you do and are confident in your decisions, your hard work will soon pay off.
Rudolf recalls his most challenging project to date: a 2.44m tall plywood statue of an elephant, called "Slonik." It was fascinating to see how the tools, resources and people at Fab Lab Armenia could come together to create an actual monument. And it was exciting and invigorating because they had a pressing three-week deadline. With the clock ticking, Rudolf found the greatest pleasure in working with the plywood, developing solutions for various lockable and organic glass joints, and working on an edge smoothing device for hard-to-reach parts.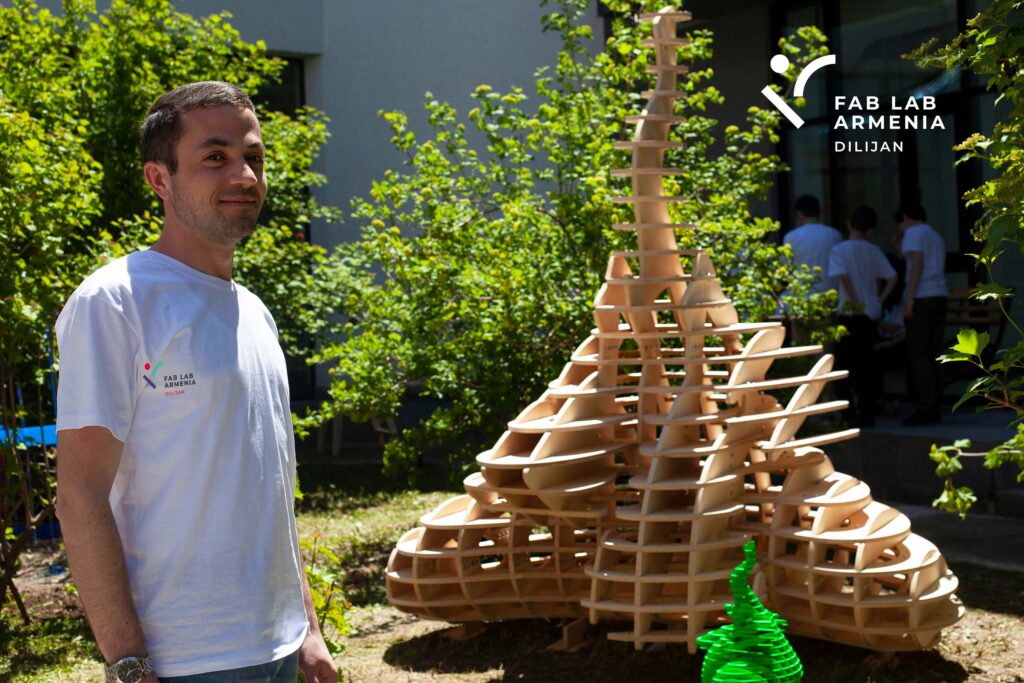 The Eternal Explorer on a Mission to Learn
Rudolf's long-term goals can be summarized in one word: to learn. His current expertise within Fab Lab Armenia includes programming languages, machines and construction, but his abilities reach far beyond that. That's why he has been dubbed the "eternal explorer."
The next five years will be more academic for him as he studies high technology, with a focus on streamlining processes and developing practical solutions. He will then share that knowledge with young people and others who are interested.
Unsurprisingly, Rudolf has a long list of skills he plans to learn and acquire in the next five years, and then teach to others. This includes fundamental physics, mathematics, Python programming language, English, and studying at Fab Academy.
Fab Academy is his ultimate goal, and he devotes himself to achieving that. There is much to be gained from attending this MIT program, including acquiring more complex knowledge and collaborating with laboratories and inventors worldwide on global projects. The vast Fab Lab Network is an invaluable advantage for someone like Rudolf, who wants to learn, iterate, and put new ideas into practice – fast.
He currently has two future startups that he wants to work on: manufacturing industrial machines and establishing a construction organization in which robots participate in the construction process. The goal is to improve construction quality, while also reducing costs and timeframe, so that affordable housing can be built for communities.
Mens et Manus (Mind and Hand)
Rudolf believes that our future is in our capacity and skill to think different and build to] innovate. With our ever-changing needs and wishes, we must adapt and improve the small and big things that lie in the origins of creation.
"Innovation makes the existing solution easier, simpler, and more accessible, eliminating unnecessary parts."

–Rudolf Igityan
Innovation demands freedom, and everyone – regardless of age, gender, or position – should have the opportunity to participate in these innovative processes.
When you visit Fab Lab Armenia, you will learn first how to use the equipment, so that visitors of all ages and backgrounds are free to explore their inner inventor and develop their ideas.
Rudolf has a set of principles that he uses to come up with creative solutions to complex issues This would be his advice to anyone using the Fab Lab:
This would be his advice to anyone using the Fab Lab:
Be crystal clear in your focus.
Investigate your vision; you need to have one!
Determine what you want to do, innovate, enhance, or build from the ground up – establish a goal. There needs to be a clear objective.
Research and learning from others are critical to gathering data, and this is why the Fab Lab and Fab Academy network of thousands of other labs is such a valuable resource in giving us access to this strong MIT network.
There are several ways to gather information about a problem, but the most effective is to identify and comprehend it.
Formulate questions; what should I ask?
Inquire into new concepts.
Prepare plans for finding answers.
"Vision without action is useless. You must act and bring your vision to market. I love MIT's motto, "Mens et Manus," which translates from Latin to mind and hand. This motto reflects the educational ideals of MIT's founders, who promoted education for practical application. This is what Fab Lab Armenia's philosophy is based on."

–Rudolf Igityan
Fab Lab Armenia – For Community and Country
According to Rudolf, our small country can't compete with the big ones in terms of cheap goods. But there is no substitute for originality, ingenuity, and cost-effectiveness. The economy of Armenia will benefit greatly if this Fab Lab grows and develops into a successful franchise.
There is no longer any value in the old educational model of identifying a student's strengths and guiding them toward a specific career path. We don't know what we'll be doing when we grow up. Continuously learning and retooling as your career evolves is necessary for everyone. Success necessitates skill, tenacity, and a willingness to keep learning throughout your life.
A new generation of well-educated citizens will propel the state of Armenia. Thinkers who can ask questions, find answers, and take action are critical to our success. Having good ideas isn't going to cut it, and it's pointless if you don't do anything with them.
Fab Lab Armenia's mission is all about the encouragement of ideas and innovative thinking. The more significant and demanding the plans, the more rewarding the collaboration becomes.
Rudolf believes that the most significant accomplishment for Fab Lab Armenia – Dilijan would be to inspire many more people who have a strong desire to create, innovate and invent, in order to help develop and strengthen Armenia. A larger Fab Lab Armenia team, with cutting edge technology and machinery, would have the potential to meet any challenge and solve any problem.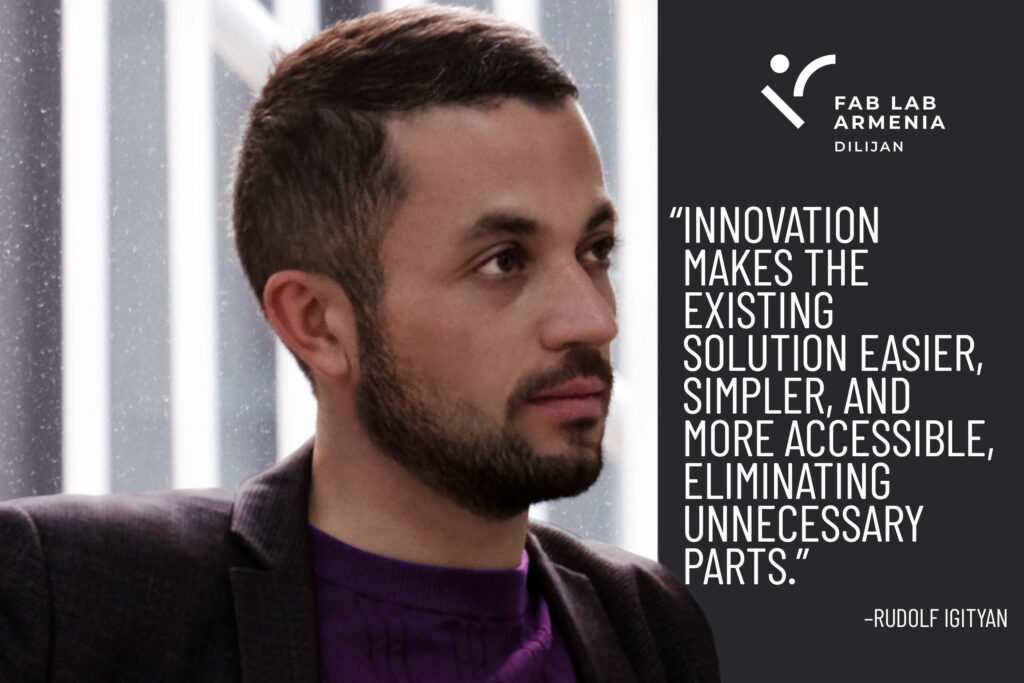 #fablab #fablabarmenia #maker #makerspace #diy #dprinting #design #makers #lab #fablabs #labrador #lasercut #innovation #dprinter #fabrication #impression #digitalfabrication #robotica #coworking