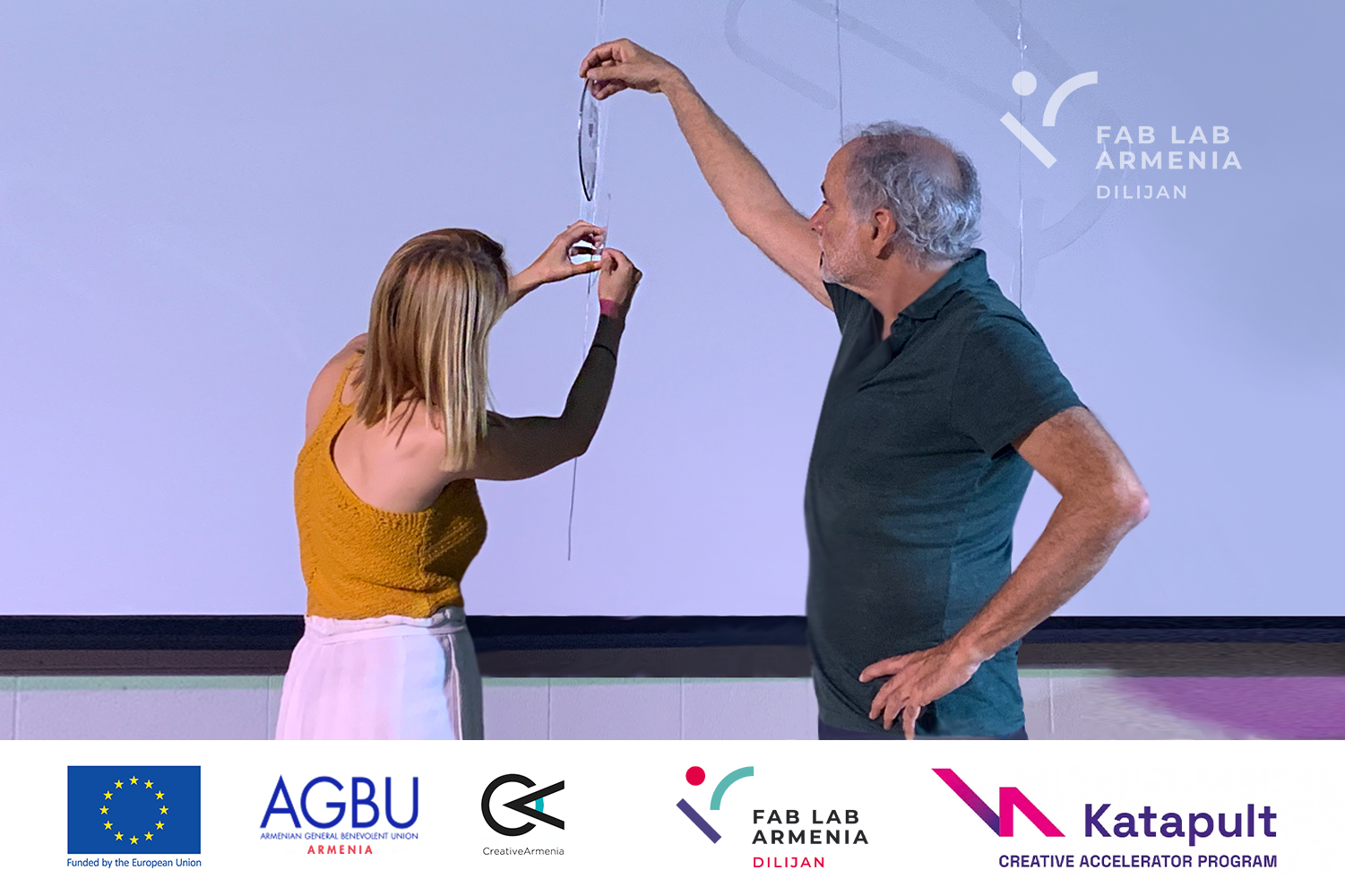 A Walk Through the Wonderland of Living Art 
Master Class and Hands-on Workshops in Ambient Intelligence and Digital Fabrication by Florent Aziosmanoff, Futurist, and Pioneer of the Living Art Industry
This summer from August 14 – 25 at Fab Lab Armenia in Dilijan, ten Artists selected by AGBU's Katapult Creative Accelerator Program came together with digital fabrication specialists to fuse Art and Technology. Under the masterful guidance of Florent Aziosmanoff, Paris-based AI and digital art expert, this two-week residency was an exploration of how to integrate technology in meaningful ways into art objects to create Ambient Intelligence.

Learning topics included object fabrication, electronic design, and programming, which artists integrated into their own daily practice. The resulting projects are the Artists' vision of an environment in which technology and artistic expression are seamlessly integrated into our surroundings and daily lives.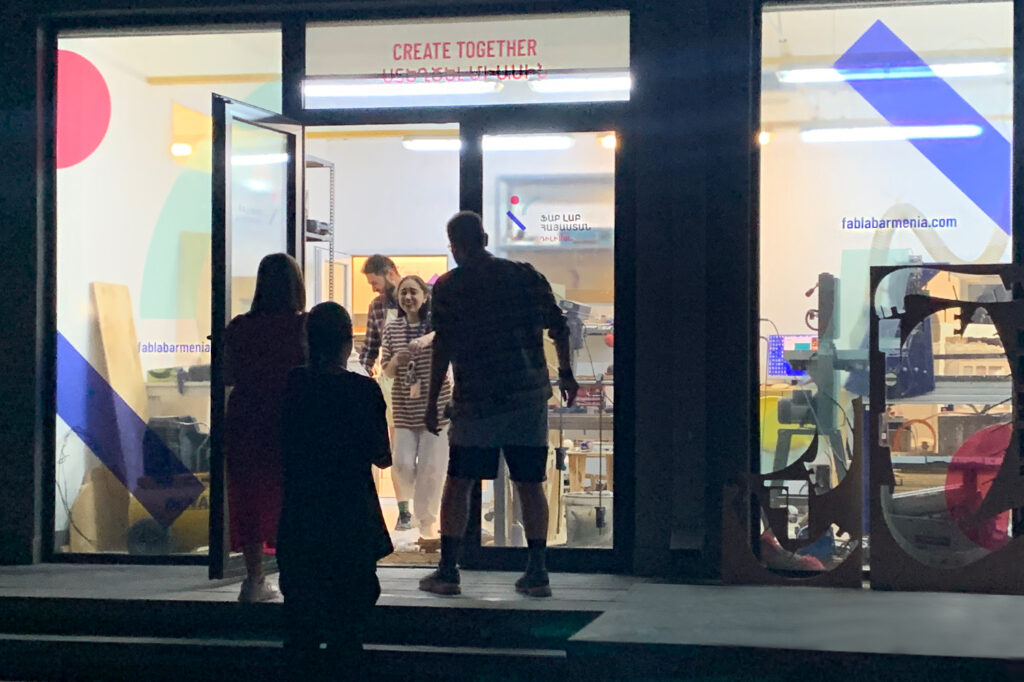 Aziosmanoff's unique approach and methodology is called Living Art, a term he coined in 2001 as director of the Le Cube's Living Art Lab, and on which he has published extensively through articles and via his books "Living Art: Digital Art" (2010) and "Living Art Foundations (2015). Through this production approach, original pieces by individual artists were brought to life with art objects showcasing autonomous behaviors and engaging their environment. At the Fab Lab Living Art Residency, the resulting projects not only operate independently, but communicate and work together forming a captivating and immersive "wonderland" that weaves ordinary objects into an interactive space. This orchestrated environment becomes more attuned to human presence and needs. Artists offer a glimpse into our near future—where surroundings offer services and artistic companionship, blending essential functionality with creative expression.

Living Art Residency 2023 Projects:
Flower by Gayane Unanyan
A decorative corset worn over clothing, which can act as a protective shield.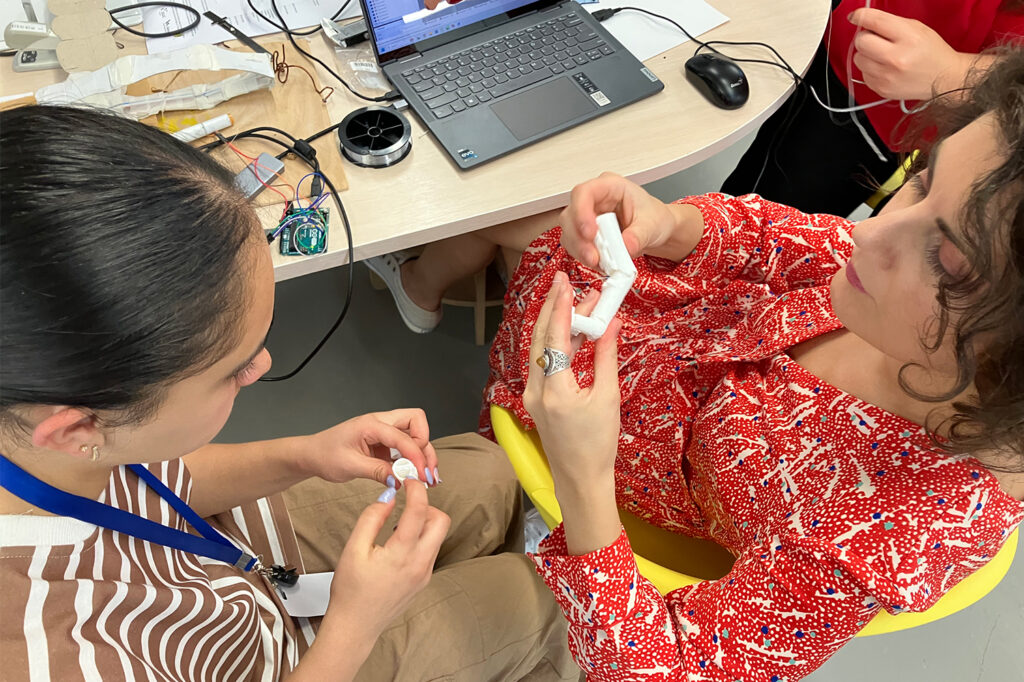 Anush Arshakyan and Gayane Unanyan in Master Class and Hands-on Workshops in Ambient Intelligence and Digital Fabrication

Bright Artsakh by Meri Martirosyan
A garment that celebrates the resilience of Artsakh
A "Tatik-Papik" image comes to life on a garment when there is life and sound around.
It makes us realize that silence is dangerous because it can make us disappear.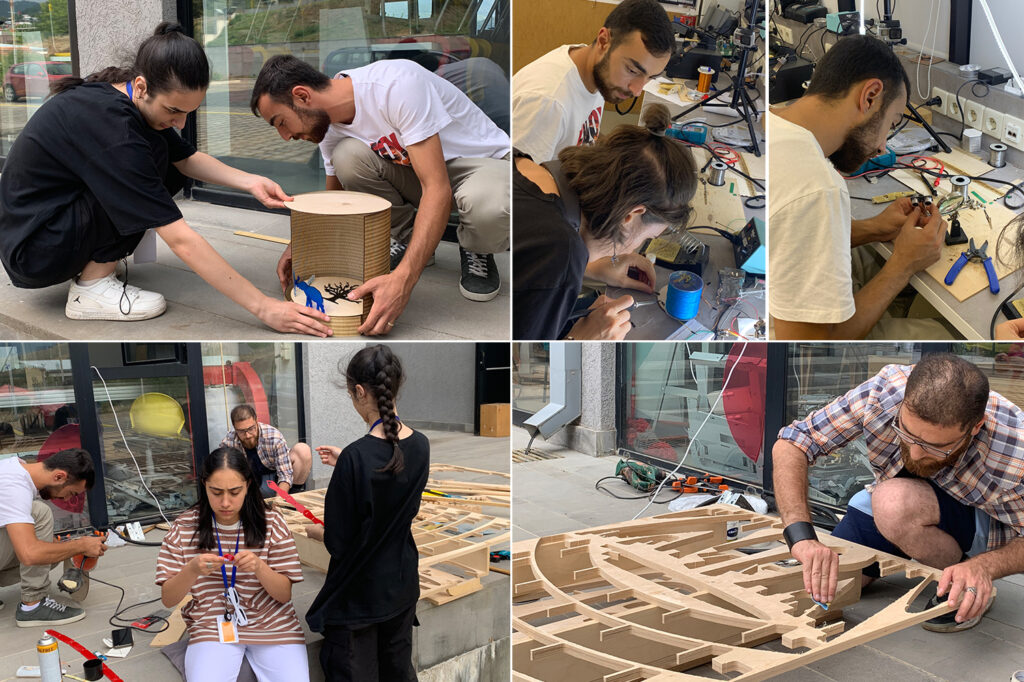 PAR by Efi Farnaki
The "PAR" mobile suspension, composed of three Armenian letters forming the word "պար" which means "dance", is an installation that invites people in the vicinity to join a circle dance.

Embroidery by Hreghen Gasparyan
A lace doily with a delicate personality, which blossoms in subtle luminescence when in a peaceful atmosphere, and contracts nervously when the surrounding ambience becomes noisy.
Mamikon Mikayelyan, Hreghen Gasparyan and Elisa Baghdiyan in Master Class and Hands-on Workshops in Ambient Intelligence and Digital Fabrication

Serenity by Elina Galoyan
A "living" lamp whose pattern and intensity depend on the quality of behavior of nearby people. The light source passes through a layer of bacteria that thrive in a peaceful atmosphere or die when the noise increases.

Sunflower by Ashot Mikayelyan
A large sunflower offers its leaves to the caress of the visitor. If the contact is too short, the flower dies. But if the contact is long enough, the flower begins to live intensely, straightening its corolla and developing its luminous animation, symbolizing the attention that life on Earth needs today.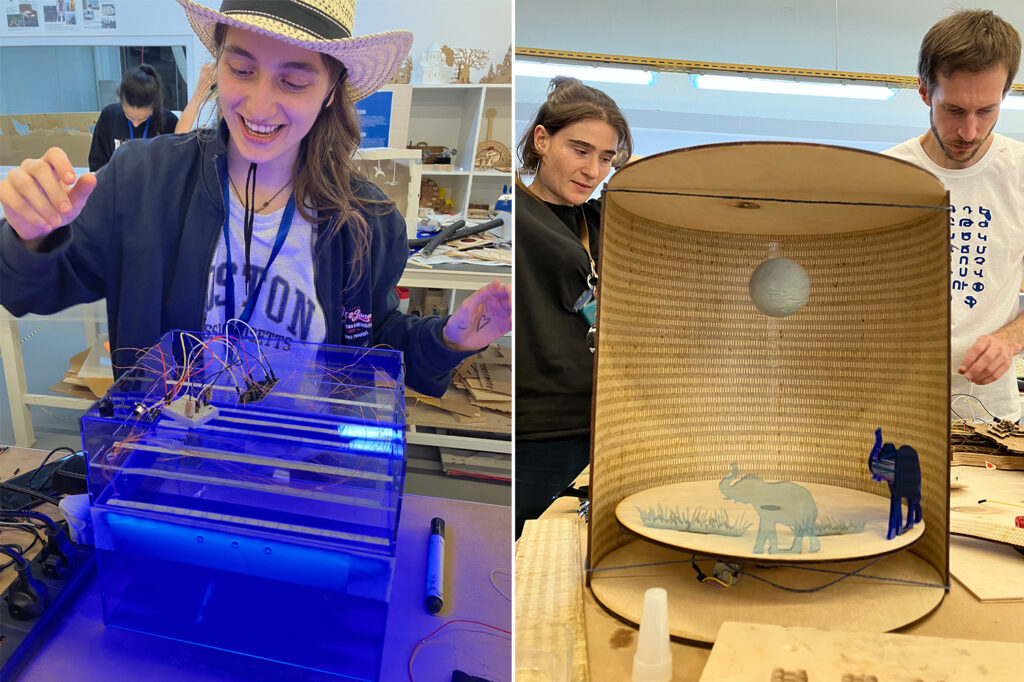 Elina Galoyan, Elisa Baghdiyanand Maxime Richard in Master Class and Hands-on Workshops in Ambient Intelligence and Digital Fabrication

Night by Eliza Nersisyan
An interior lamp, which presents itself as a small piece of nature where animals live in the forest, in a play of light and shadow. A harmonious landscape in a calm atmosphere, it declines, and its animals flee if the environment becomes noisy.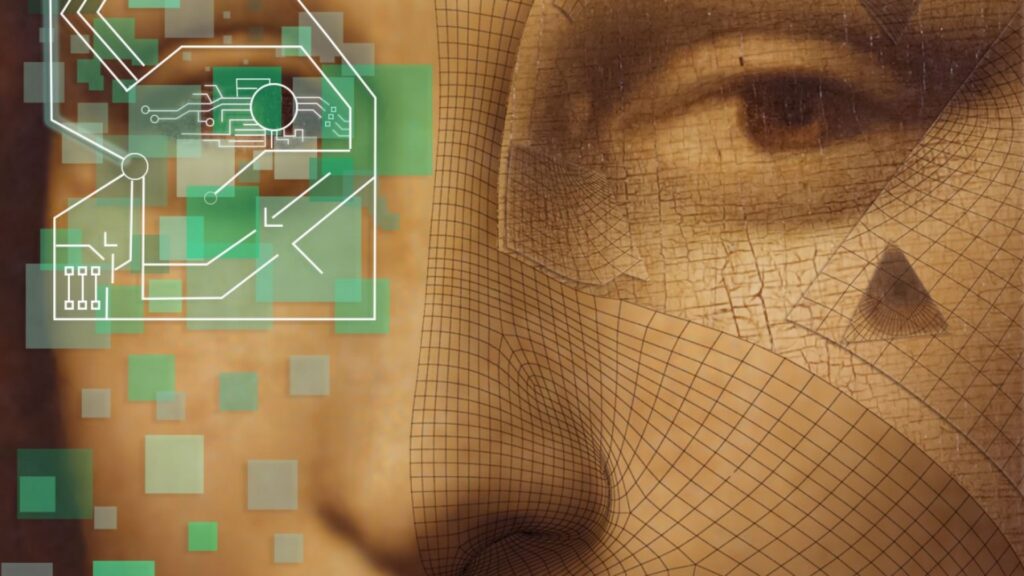 Living Mona Lisa by Florent Aziosmanoff
An adaptation of Leonardo da Vinci's masterpiece in the form of a painting in which Mona Lisa lives in relationship with her viewers.
Inception by Mamikon Mikayelyan

A sculpture opening into a small universe symbolizing the crucible of life. Visitors grasp a small sphere in the palm of their hands, representing an ovum, which then begins to vibrate. By placing it in the center of the sculpture, a whole environment of small luminous shapes representing spermatozoa lights up, representing the birth of life.

Light up ! by Eliza Baghdiyan
"Home is where your heart is", A climb in a mountain of Artsakh, on the summit of which a transparent house shelters a human and and a heart, giving and receiving love. A caring touch of its landscape by visitors illuminates a responding world and spreads love in the universe.
Light up! By Eliza Baghdiyanin Master Class and Hands-on Workshops in Ambient Intelligence and Digital Fabrication

A Wonderland by Anna Badalyan
The art of crafting an immersive installation. Creating a balance between, individual and collective artistic visions, and their practical execution to offer the visitor with  a sense of wonder and a deeper understanding of the emerging future.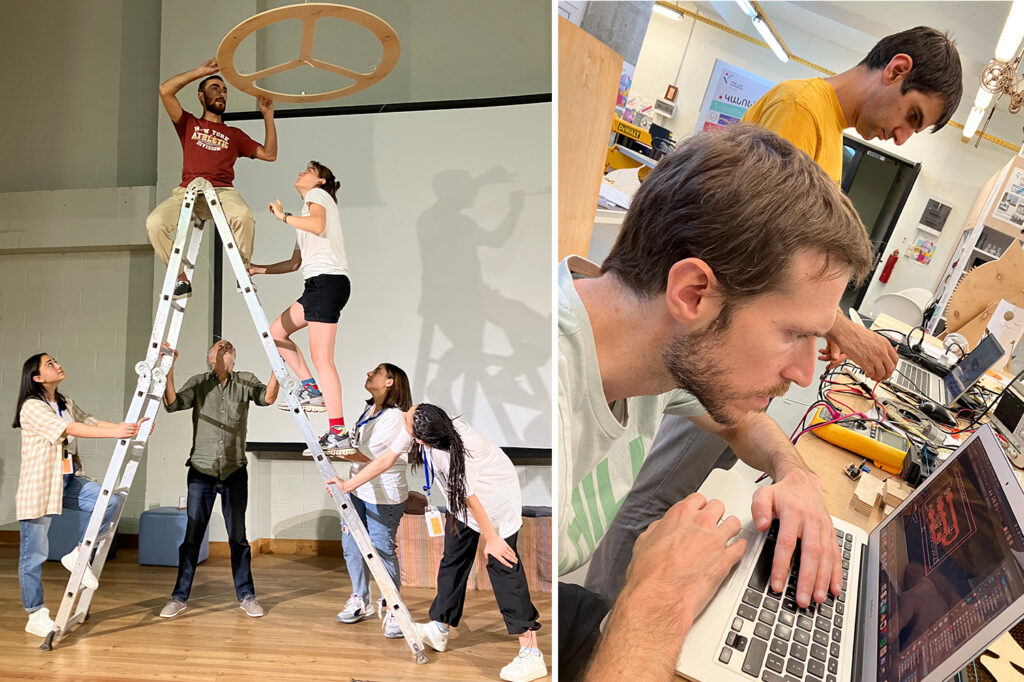 Art team and Florent Aziosmanoff, Futurist, and Pioneer of the Living Art Industry. Maxime Richard and Babken Chughaszyan in Master Class and Hands-on Workshops in Ambient Intelligence and Digital Fabrication